Serves 4
For the pancakes:
2 eggs
150 g cake flour
250 ml milk
1 pinch salt
4 tbsp butter (melted for frying)
For the filling:
200 g cream cheese (e.g. with herbs)
1 pack HANDL TYROL Fine Loin Light 3% fat -40% salt
Lamb's lettuce
Whole parmesan
Fresh herbs, if desired
Salt, pepper
With the Fine Loin Light with -40% salt it is easy to enjoy consciously
Preparation
Level of difficulty:
Beginner
For the pancakes, first whisk the eggs well. Stir the milk together with the flour and add the egg. Season with a pinch of salt and mix everything into a smooth batter.
In a flat pan, melt a little butter and use a ladle to add enough batter to thinly coat the bottom of the pan. Turn the pan to make sure the bottom is evenly coated. As soon as one side is golden brown, turn the pancake over and cook the other side. Then turn out onto a plate to cool.
For the filling, season the cream cheese with fresh herbs, salt and pepper. Spread the cream cheese, Fine Loin Light and the lamb's lettuce, as well as the grated parmesan and roll into a wrap. If necessary, fix together with a toothpick and then serve.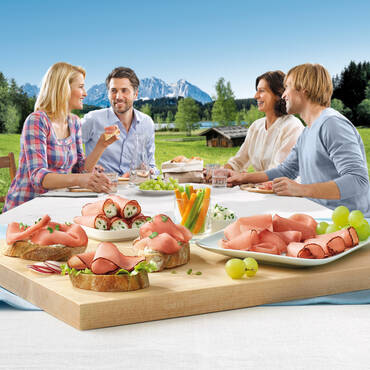 Good health - Tyrolean style
The Fine Loin Light with only 3% fat, less salt and a high portion of protein ist he fat-reduced alternative for everyone seeking the ideal balance between full culinary pleasure and a conscious lifestyle.
Fine Loin Light - 40% salt
Conscious indulgence with full flavour