Makes approx. 12 pieces
180 g HANDL TYROL Tiroler Speck PGI Ham
1 pack puff pastry
3-4 tbsp tomato puree
200 g cheese (grated)
fresh parsely
fresh chives
Tiroler Speck PGI Ham – ideal for savoury snacks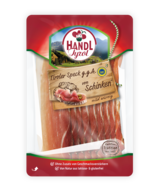 Preparation
Level of difficulty:
Beginner
For the ham buns, preheat the oven to 200°C. Use the pastry straight from the fridge, roll out and coat with tomato puree.
Cover the bottom 2/3 of the pastry with the Tiroler Speck PGI Ham and sprinkle with grated cheese and chopped parsley.
Roll the covered dough up and cut the roll into chunks approx. 1-2 cm thick. Place these chunks on a sheet and sprinkle with oregano.
Bake the ham buns for approx. 15-20 minutes. Serve garnished with chives or your favourite herbs.
Tip: You can also add your favourite vegetables, e.g. pepper, corn, mushrooms.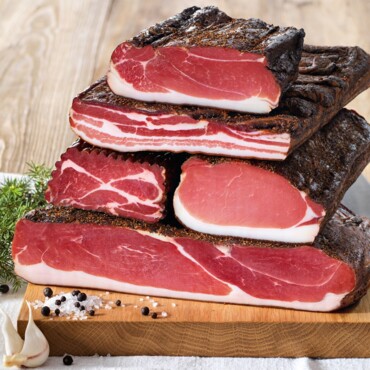 If you're searching for cooking inspiration. Become a Tyrolean!
For the Tiroler Speck PGI to blend in harmonically with the other ingredients of a dish, choosing the right type of Speck ist essential.
Ham
5 types of Tiroler Speck PGI