The brand
How to get the taste for becoming a Tyrolean.
The brand
How to get the taste for becoming a Tyrolean.
The brand
How to get the taste for becoming a Tyrolean.
Solitary mountain peaks, luscious Alpine meadows, crystal clear air, cosy lounges and friendly people. This is how Tyrol has been welcoming its guests for a long, long time.

Anyone who has visited this land in the heart of the Alps will long to come back one day. Not least due to the hearty cuisine of Tyrol with its legendary Tiroler Speck PGI. This unique Tyrolean culture of speck and good food has been inextricably linked to the name of HANDL TYROL since 1902.


Become a Tyrolean! That's our invitation

An invitation from HANDL TYROL, which skilfully combines a range of culinary offerings with a longing for an ideal world and Tyrol´s unspoilt natural environment. More and more food connoisseurs looking for authenticity are discovering traditional Tiroler Speck PGI, ham, raw sausage and roast specialities by HANDL TYROL.

HANDL TYROL is the original Tyrolean speciality brand that lets you enjoy a real piece of Tyrol whenever and wherever you like. Wherever HANDL TYROL is, Tyrol is too. And anyone who tried HANDL TYROL becomes a Tyrolean. At least for a few, tasty moments.

And then, when the wonderful aroma of an original Tyrolean "Marend" (a traditional Tyrolean snack time) reveals itself, you understand why it's so great to be a Tyrolean – at the very least from a culinary perspective.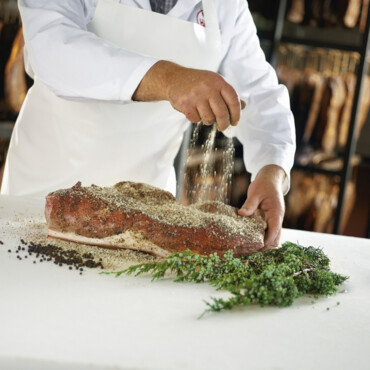 The legendary Tyrolean Ham PGI
FRIENDS
Many friendships are cemented over a hearty "Marend" or on a mountain tour. Here you'll find our friends and partners, with whom we share a love for Tyrol, the mountains, and a love for quality.
Friends and Partners