Honesty is the best policy
Honesty is the best policy
Honesty is the best policy
Original Tyrolean specialities since 1902
Tyroleans have preserved the art of making speck over hundreds of years. The first mention of "speck" was documented in the Tyrolean book of handicrafts as early as 1573.
The basic ingredients have hardly changed, and the same can be said for the methods of preparing the original Tiroler Speck PGI. The best recipes were guarded by families like a treasure and passed on from generation to generation.
Karl Cyprian Handl, authored his recipe book in 1926, immortalising the most precious secret of original Tiroler Speck PGI with his spice blends: sea salt, juniper, pepper and a touch of garlic. The ratios of the spice blend remain strictly secret. "Our ham has an honest history all the way up to the present day," explains Karl Christian Handl, the current director, who is leading the family business into its fourth generation.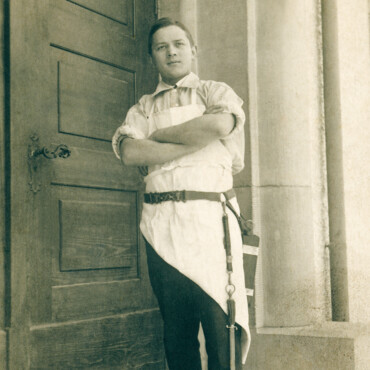 Karl Handl II (approx. 1930)
Handl from the heart
Remaining unchanged to this day, HANDL TYROL has preserved traditional manufacturing methods and a passion for Tiroler Speck PGI and other Tyrolean ham specialities. Uncompromising and a matter that's dear to our hearts: it's nothing less than a commitment to quality.
That's why our fond motto is "Handl on heart". For our original Tyrolean specialities, we only use selected meat from controlled origins. Careful selection of suppliers and ongoing internal and external checks facilitate a product quality that is checked at every stage.
The best taste comes only with the best quality. Quality ingredients and honest work are the best recipe for simple pleasure.
Without, without, without
Together with the traceable origin our honest manufacturing of raw ingredients is our top priority. That's why at HANDL TYROL, we do not use any added colours, flavour enhancers or allergens.
All of our original Tyrolean specialities are also lactose-free and gluten-free.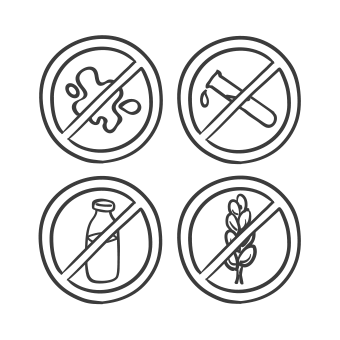 Honesty is the best policy
Selected natural herbs & spices
To ensure consistently high quality, every ingredient must meet the highest criteria. That's why we have strict purchasing guidelines for raw meat and use only the highest quality raw materials for our spices.
The winning formula for our special HANDL TYROL seasoning blend will not be revealed here. But we can share the selected ingredients. The grain size and essential oil content are precisely defined. With microbiological investigations and checking for allergens we also guarantee maximum safety.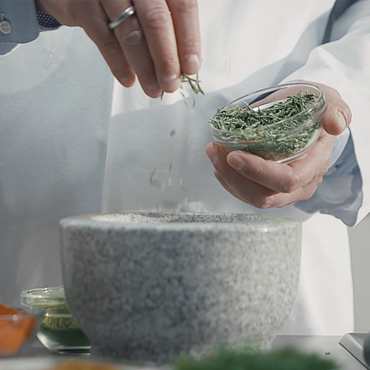 With selected natural herbs and spices
Much garlic comes from China – but not at HANDL TYROL. The company's own quality specifications for colour and granulation forbid this.
Traditional juniper berries give original Tyrolean specialities a unique note. We use only the best juniper, employing a special procedure to remove unwanted bitter substances.
For our pepper we use quality goods from selected growing regions in Brazil – instead of mass-produced goods from Vietnam.
To achieve that unique, fine flavour, we use only mild sea salt (Parma sale) from Sicily. This guarantees a consistent level of minerals and trace elements - and the best flavour!
That's how our Tiroler Speck PGI is made