Handl Tyrol
Ambassadors for Tyrolean Cuisine
Handl Tyrol
Ambassadors for Tyrolean Cuisine
Handl Tyrol
Ambassadors for Tyrolean Cuisine
We inspire our customers with the highest quality and the great taste of our Tiroler Speck PGI, ham, raw sausage and roast specialities. Uncompromising quality leadership combined with innovative performance as well as concentration on our core skills are the basis of our success.
HANDL TYROL is an Austrian family business based in Pians/Tyrol, specialising in producing original specialities of Tiroler Speck PGI, ham, raw sausages and roasts. HANDL TYROL is an important ambassador for Tyrolean specialities and Tyrolean cuisine.
With its focus on its homeland, the company has its finger firmly on the pulse and underlines the topicality of the desire for belonging, naturalness and authenticity. With this general need for a homeland and the trend towards regionality, HANDL TYROL has experienced great appeal with countless non-Tyroleans.
This is also attested to by the high proportion of exports, at 60 per cent, which is an export hit, securing more than 500 jobs in Tyrol.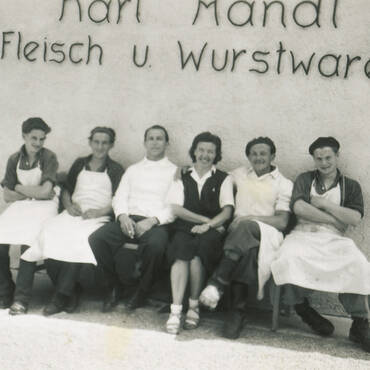 In 1902, Karl C. Handl established his own butcher's shop
It all began in 1902
At the beginning of the previous century, Karl C. Handl (the First) established his own butcher's shop in Pians in the Tyrolean Oberland and, in doing so, set the foundation for an impressive success story.
The flaming passion which drove him was passed on from generation to generation in his family. In 1926, his son wrote his recipe book, which captured the secret blend of herbs and according to which HANDL TYROL's original Tyrolean specialities are still produced.
In 1970, his grandson Karl Handl took over the company which has been known by the brand name HANDL TYROL since 1990. With great passion and vision, he achieved developing the small business into a medium-sized family company and making Tyrolean cuisine known far beyond its borders.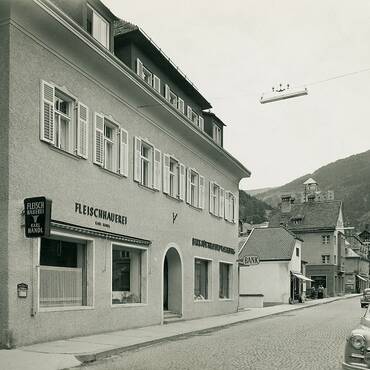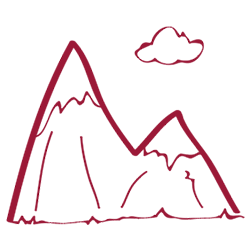 HANDL TYROL Today
That little butcher's shop in Tyrol became a company of significant size, with four production locations and over 600 employees, now headed by Karl Christian Handl in its 4th generation.
And even if things have changed a lot, we have carried forward what we learnt from birth: our sense for the highest quality, a love of detail and being open to new things.
Contact
Because honesty is the best policy!
At HANDL TYROL, Tyrolean specialities are made just as they were in the past - completely naturally. From selected pieces of meat of the highest quality, expertly treated by our Master Curers. According to the recipes of our great-grandfather Karl C. Handl, which have been passed down to the present day - and with the powers of nature.
HANDL TYROL uses only selected natural herbs and sea salt, beech wood for light smoking and mountain air for maturing its original Tyrolean specialities. Nothing else.
The addition of other flavourings is completely forbidden. Flavour enhancers have nothing to do in HANDL TYROL recipes. Those with allergies or aversions to lactose or gluten can breathe easy, because we avoid such allergens entirely.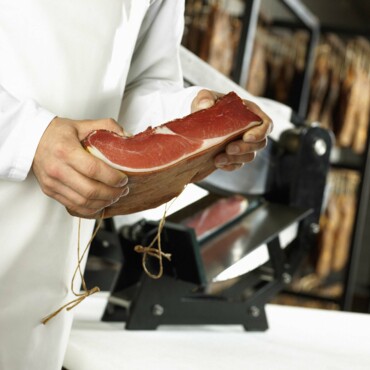 A passion for the craft
Traditional techniques and the latest technology are not mutually exclusive. We prove that at HANDL TYROL every day. All our Tyrolean specialities are produced without added flavour enhancers or flavours and are only seasoned with selected natural herbs and spices. Internal and external quality checks guarantee the safety of our products according to the latest standards .
New, self-developed and partially patented technologies are used where necessary to bring you a perfect piece of Tyrol.
However, many stages are trusted only to the technique and skill of our Master Curers. Not because we have to, but because it makes it taste great.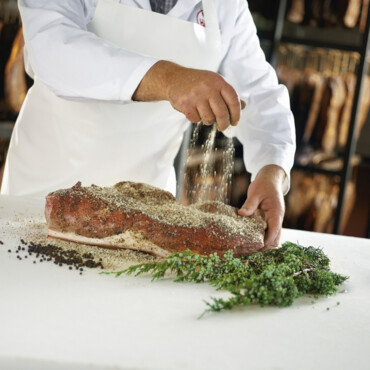 Our location
Pians – our origins
Schönwies – Service centre
Pians – our origins
HANDL TYROL has its origins in Pians. Here, our Master Curers maintain the old knowledge and skills in a unique way, using them for our famous Tiroler Speck PGI, roasts and sausage specialities.
Schönwies – Service centre
Our Tyrolean specialities for delicatessens throughout Europe are prepared, cut and made ready for sale in Schönwies in the Inn valley, with careful testing of quality and maturity levels.
Haiming – speck production on a new level
Naturns – South Tyrolean Brand Ham PGI
Haiming – speck production on a new level
Our fourth production site just opened in mid 2018. This is where we pair traditional recipes and processes with the newest, partially patented technology - the perfect combination of tradition and innovation.
Naturns – South Tyrolean Brand Ham PGI
In our branch in Naturns in sunny South Tyrol, we make our Speck Alto Adige PGI with great care, by hand.