Makes 20-25 pieces
For the grissini:
180 g HANDL TYROL Tyrolean Air-Dried Ham
15 g yeast (or a heaped tsp dry yeast) )
3 tbsp flour
1 tsp sugar
120 ml lukewarm water
250 g wheat flour
1 tsp salt
2 tbsp olive oil
150 g light and dark sesame seeds
A little seasalt (coarse)
Olive oil to glaze


For the cream cheese and herb dip:

200 g cream cheese
100 g quark
Chopped herbs (chives, basil, tarragon, chervil...)
Salt
Pepper
Lemon juice
Milk, if required
Air-Dried Mountain Ham – for the little holiday in everyday life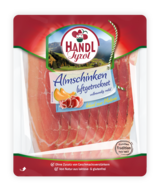 Preparation
Level of difficulty:
Hobby cook
1. Dissolve the yeast together with 3 tbsp flour and sugar in some lukewarm water and leave for 15 min. Then knead the rest of the ingredients into a silky dough, cover and leave for 40 min.
2. On the floured work surface, roll the dough out in a rectangle to a thickness of approx. ½ cm. From this, cut strips 30 cm in length and ½ cm thick, use hands to roll into sticks. Cover a baking tray with greaseproof paper, place the dough sticks on the tray next to one another and coat with olive oil, sprinkle with sesame and sea salt and bake in a preheated oven at 200° for approx. 15 min. until golden. Leave to cool and then wrap with a slice of Air-Dried Mountain Ham.
3. For the herb dip, mix all ingredients together and add salt, pepper and lemon juice to taste.
Tip: According to taste, you can also use different herbs and spices, curry, paprika, pumpkin seeds or salt for the grissini.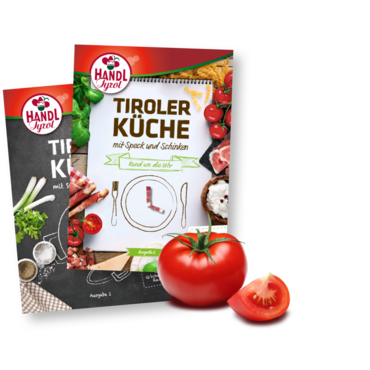 If you're searching for cooking inspiration. Become a Tyrolean!
We Tyroleans enjoy our Tiroler Speck PGI and other Ham specialities at any time of the day. You can find many more modern and creative recipes, no matter if for breakfast, lunch or a midnight snack, in the recipe section of our magazine.
Recipes
Creative ideas for cooking with Tyrolean ham specialities