Serves 4
4 slices of brown bread
1 pear
4 slices of HANDL TYROL Tiroler Speck PGI Pork Belly
Herbs to garnish
For the herb cream:
50 g butter (room temperature)
100 g low-fat quark
1 tbsp lemon juice
1 garlic clove (crushed)
5 tbsp mixed herbs, finely chopped (e.g. chives, parsley, chervil, tarragon, lovage...)
Salt
Pepper
The Tiroler Speck PGI Pork Belly gives this dish the perfect tasty finish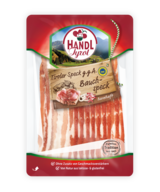 Preparation
Level of difficulty:
Beginner
1. For the herb cream, whip the butter and mix with quark and garlic, lemon juice, herbs and spices. Place in the refrigerator to cool for at least 30 minutes.
2. Briefly toast the bread in the oven or toaster. Meanwhile, fry the Tiroler Speck PGI Pork Belly in a pan until crispy. Halve the pears, remove the cores and cut the halves into slices.
3. Spread the herb cream over the bread, top with pear and ham, garnish with herbs and serve.
Tip: For a low-calorie variety, you can use a mixture of herbs and quark instead of the herb cream.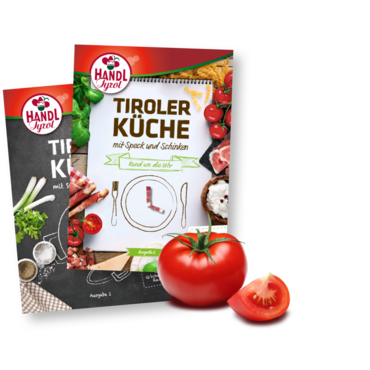 If you're searching for cooking inspiration. Become a Tyrolean!
We Tyroleans enjoy our speck and other ham specialities every time of the day. You can find many more modern and creative recipes, no matter if for breakfast, lunch or a midnight snack, in the recipe section of our magazine.
Recipes
Inspiration for special dishes with Speck and Ham