Ingredients for 4 people
4 slices HANDL TYROL Fine Loin Light 3% fat & -40% salt
400 g spinach
2 eggs
4 tbsp. cream cheese
1 onion
2 tbsp. olive oil
salt
freshly grinded pepper
nutmeg
For particularly light culinary pleasures: Fine Loin Light with only 3% fat and -40% salt
Preparation
Level of difficulty:
Beginner
Peel and thinly cut the onion into cubes. Lightly fry it in a pan with a touch of olive oil and grind some garlic on top.
Sort, wash and drain the spinach. Put it into a hot pot with some olive oil, add the onoins and sautée it a bit together.
Put the spinach in a blender to get a not too finely bleded puree. Fold in the cream cheese and season it with some salt, pepper and nutmeg.
Cut the Fine Loin Light into fine stripes and boil the eggs to a sticky consitency.
Place the spinach cream cheese mix in the glasses. Cut the eggs in the middle and place one half each on top of the spinach.
Sprinkle the stripes of Fine Loin Light loosely on top, garnish with some fresh basil and serve with a drop of olive oil on top.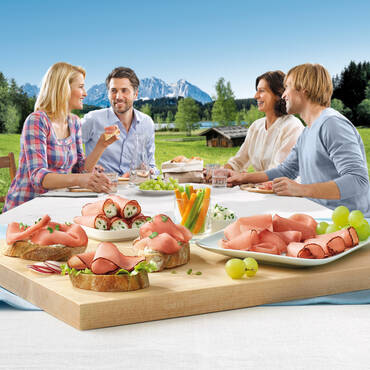 Good health Tyrolean style
Due to a stressful everyday lifestyle and the resulting eating habits we often eat in an unhealthy way – we consume too much fat, salt, carbohydrates and sugar. Living more consciously and reducing calories, however, doesn't mean you have to compromise on taste.
Fine Loin Light - 40% salt
Conscious indulgence with full flavour