Makes 9 pieces
1 pepper
80 g feta cheese
3 slices bread (e.g. protein bread)
9 slices of HANDL TYROL Fine Loin Light 3% fat -40% salt
1 tsp olive oil
pepper
fresh cress
With the Fine Loin Light with -40% salt it is easy to enjoy consciously
Preparation
Level of difficulty:
Beginner
Halve the pepper, remove the insides and cut into strips.
Cut the feta cheese and the bread into thin rectangular slices. Then top the bread with the cheese, season with some pepper and drops of olive oil.
Plce the pepper on top and wrap the sandwiches in a slice of Fine Loin Light. Garnish with fresh cress.
Tip: Tastes great with a crisp, fresh salad.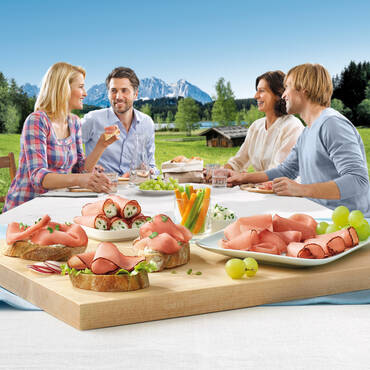 Good Health Tyrolean Style
The Fine Loin Light with only 3% fat, less salt and a high portion of protein ist he fat-reduced alternative for everyone seeking the ideal balance between full culinary pleasure and a conscious lifestyle.
Fine Loin Light - 40% salt
Conscious indulgence with full flavour