Serves 6
1.5 kg venison
100g HANDL TYROL Tiroler Speck PGI Pork Belly
2 tbsp clarified butter
3 large onions
2 tbsp tomato puree
2 tbsp flour
250 ml strong red wine (e.g. Rioja or Shiraz)
400 ml venison stock
3 bay leaves
8 juniper berries
4 tbsp currant jelly
50 ml cream
The Tiroler Speck PGI Pork Belly adds a unique flavour and aroma to this venison goulash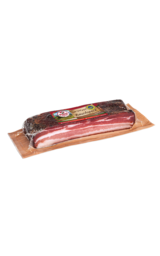 Preparation
Level of difficulty:
Hobby cook
Cut the Tiroler Speck PGI Pork Belly into small cubes, place in a hot casserole dish and then remove. Add clarified butter to the ham fat and then fry the cubed venison goulash in it until crispy and brown. Fry the meat in 3 stages, do not turn until the underside is brown and crispy. Season with salt and pepper.
Remove the meat and briefly fry the diced onions in the juices. Add tomato puree and briefly sweat. Coat with flour and sweat while stirring. Add the meat back in, stir well and add the wine, half a litre of water and the stock so that the frying residue is deglazed. Add bay leaves and juniper berries. If you use a filter for the herbs, such as a tea filter or a spice holder, it makes it easier to remove the herbs or spices at the end.
Leave everything to cook and stew for approx. 1.5 hours. Then remove the herbs, re-add the pork belly cubes, flavour with the jelly (it also tastes good if you add a handful of dried cranberries one hour before the end of cooking) and let the goulash stew for another 15 minutes. Season with salt and pepper and stir in the cream.
Tip: Goes well with roasted dumplings or home-made Spätzle.
With thanks to Marian Staller for sending in this recipe.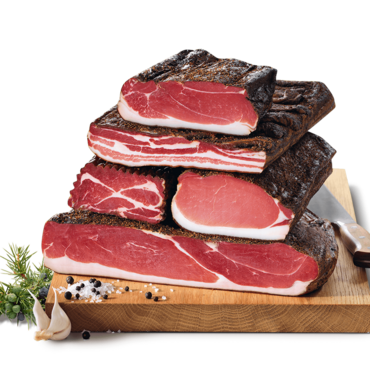 Cooking with Speck
Did you know that besides the Pork Belly, there are also four other types of Tiroler Speck PGI (Protected Geographical Indication)? And HANDL TYROL is even the only producer of all five types. Take a closer look and explore the world of our Tiroler Speck PGI!
Tiroler Speck PGI
5 variations of Tiroler Speck PGI