Serves 4
1 veal fillet, approx. 600 g
100 g HANDL TYROL Tiroler Speck PGI Ham
Seasonal mushrooms (chanterelles, button mushrooms...)
1 small shallot
1 tbsp oil
4 tbsp butter
1/2 tsp fresh rosemary
Salt, pepper
The Tiroler Speck PGI Ham gives this veal fillet a delicious twist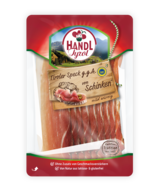 Preparation
Level of difficulty:
Beginner
1. Wash the veal fillet, pat dry and season with salt and pepper. Wrap with Tiroler Speck PGI Ham and cut into medallions approx. 3 cm thick.
2. Heat the oil in a pan and fry the medallions on both sides on a medium heat for approx. 1-2 minutes. Remove the meat and place in a preheated oven at 60 °C for approx. 20 minutes. Remove while the inside is still pink.
3. Seasonal mushrooms, such as chanterelles or button mushrooms, go well with this. Add 4 tbsp butter to the cooking juices and fry mushrooms in a pan, braise finely chopped shallots and mix well with salt, pepper and herbs. Then stir continuously over a low heat for approx. 5 min.
4. Take the veal fillet out of the oven and serve together with the mushrooms.
Tip: Lightly braised Brussels sprouts go well with this dish.
Always cook the mushrooms first and then add the shallots. So that the mushrooms are able to fry until dry.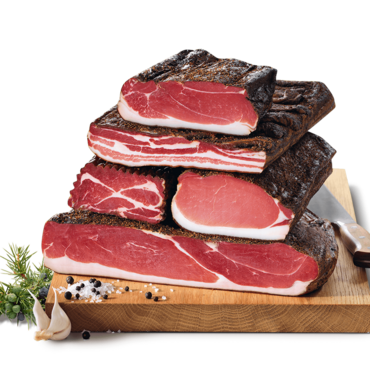 Cooking with Speck
Did you know that besides the classic Ham, there are also four other types of Tiroler Speck PGI (Protected Geographical Indication)? And HANDL TYROL is even the only producer of all five types. Take a closer look and explore the world of our Tiroler Speck PGI!
Tiroler Speck PGI