Serves 4
400 g spiral pasta
250 g HANDL TYROL Tiroler Speck PGI Ham
250 g white asparagus
250 g green asparagus
2 tomatoes
1 carrot
1 leek
60 g Tyrolean mountain cheese
50 g quark
½ garlic clove
Freshly ground salt & pepper
Olive oil
Tiroler Speck PGI Ham and aspargus – a perfect combination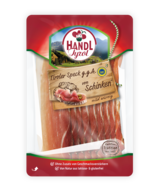 Preparation
Level of difficulty:
Beginner
Peel the carrots and then slice into thin strips using a peeler. Clean the leek and cut length-ways, wash and slice into strips of approx. 5 mm.
Wash the asparagus, peel the bottom third and cut off the ends. Cut the tips off the green asparagus for the garnish. Use a peeler to slice both sorts length-ways in thin strips. Wash and quarter the tomatoes.
Cook the pasta in salted boiling water until al dente. Blanch the vegetable strips in salted water for approx. 2 minutes and then strain. Finely chop the garlic and stir into the quark together with the vegetable strips, adding 2 tbsp olive oil. Season with salt and pepper to taste. Give the tomatoes a quick turn in hot olive oil.
Cut the Tiroler Speck PGI Ham into approx. 2 cm wide strips and fry briefly in a pan. Add the pasta, cover with the quark mix and mix everything together.
Garnish the Tyrolean pasta with freshly grated Tyrolean mountain cheese and asparagus tips and then serve on plates.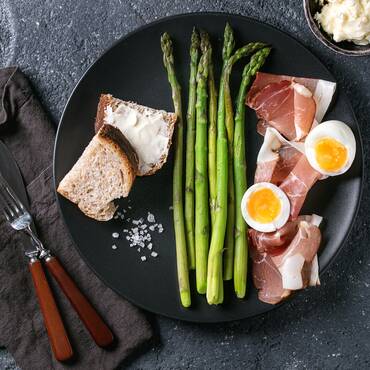 Spring time = time for asparagus
Asparagus is a delightfully light spring vegetable with many vitamins and important nutrients that can be preparies and many different ways. Especially our Tyrolean Air-Dried Ham or the Tiroler Speck PGI Ham match the fresh taste of asparagus in a perfect way.
Asparagus Season