Serves 4
250 g pasta (e.g. penne)
100 g HANDL TYROL Tiroler Speck PGI Ham cut in sticks
250 g mushrooms
100 g Tyrolean mountain cheese
1 pepper (red)
4 eggs
250 ml milk
2 tbsp oil
Marjoram
Salt, freshly ground pepper
paprika powder (sweet)
Parsley
butter (for the dish)
Tiroler Speck PGI Ham gives this casserole a particularly tasty finish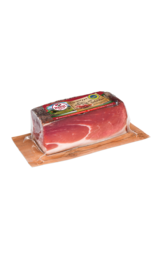 Preparation
Level of difficulty:
Beginner
Cook the pasta in plenty of salted boiling water for 10-12 minutes until al dente, then drain and rinse with cold water.
Clean and wash the mushrooms and pepper. Halve or quarter the mushrooms according to size, finely chop the pepper. Wash the herbs, remove from stalks and chop finely - leave some aside as garnish.
Heat the oil and fry the mushrooms, pepper and Tiroler Speck PGI cut in fine sticks. To finish, add the herbs and season with salt, pepper and marjoram. Then mix with the cooked pasta and place in a greased dish.
Whisk eggs and milk together, season with salt, pepper and paprika and pour over the pasta. Grate cheese over the top. Place the dish in a preheated oven (convection oven 175 °C) for approx. 30 minutes. Garnish and serve hot.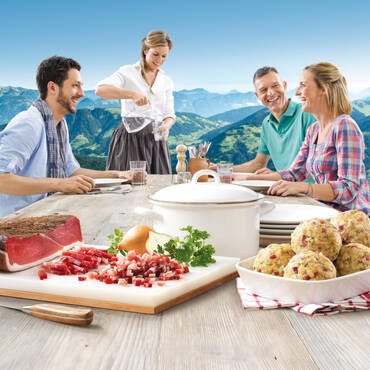 Cooking with Speck
For the Tiroler Speck PGI to blend in harmonically with the other ingredients of a dish, choosing the right type of Speck ist essential.
In case of baking this casserole, we recommend using the Tiroler Speck PGI Ham. However there are 4 other types that are well worth exploring!
Tiroler Speck PGI