Serves 6-8
500 g potatoes
400 g leeks
100 g carrots
100 g red pepper
150 g HANDL TYROL Tiroler Speck PGI Ham Cubes
200 g HANDL TYROL Tyrolean Kaminwurzerl
800 ml meat stock
125 ml white wine
1 tin tomato passata
1 garlic clove
1 bay leaf
Caraway
Salt
Pepper
lovage
The Tyrolean Kaminwurzerl are not just great as a snack during hikes, but also as a main ingredient in this Midnight Stew!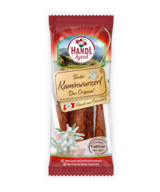 Preparation
Level of difficulty:
Hobby cook
For the stew, peel the potatoes and cut into cubes. Cut the leeks into approx. ½ cm rings and grate the carrots into fine strips. Cube the pepper.
Add the Tiroler Speck PGI Ham Cubes and the thin slices of Tyrolean Kaminwurzerl to a pan to sweat.
Add the vegetables, cook briefly and add white wine. Then add the hot stock and herbs and cover and simmer for approx. 20 minutes.
Add the tomato passata and cook for approx. 5-10 minutes.
When the potatoes have the right consistency, remove the garlic, bay leaf and lovage, season and add extra seasoning to taste.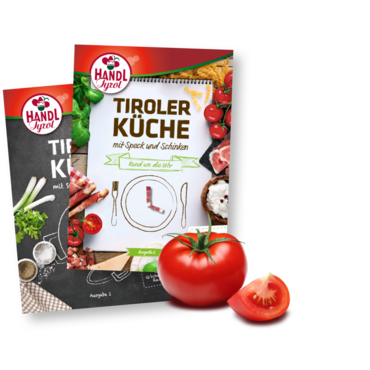 If you're searching for cooking inspiration. Become a Tyrolean!
We Tyroleans enjoy our speck, ham and raw sausage specialities at any time of the day. You can find many more modern and creative recipes - no matter if for breakfast, lunch or a midnight snack - in the recipe section of our magazine.
Recipes
Creative recipes to cook at home