Serves 4
2 large waxy potatoes
2 peppers
1 red onion
½ Hokkaido Squash
20 parsley leaves
100 g HANDL TYROL Tyrolean Kaminwurzerl
100 ml vegetable stock
2 tbsp pumpkin seeds
Salt
Freshly ground pepper
A little sour cream
3 tbsp sunflower oil
The Tyrolean Kaminwurzerl are not just great as a snack during hikes, but also as a main ingredient in this Gröstl!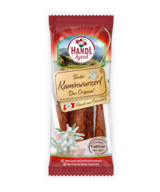 Preparation
Level of difficulty:
Hobby cook
Peel the potatoes, remove the stalk and seeds from the peppers. Cut the squash, potatoes and peppers into similar sized chunks (approx. thumb-nail size).
Peel the onion and cut into fine strips, slice the Tyrolean Kaminwurzerl into small pieces.
Heat oil in a pan, fry the Tyrolean Kaminwurzerl and remove. Then fry the squash, onion, potatoes and peppers over a medium heat for approx. 10 minutes, douse with the stock and simmer for 3-4 minutes.
As soon as the squash and potatoes are soft, add the parsley and season with salt and pepper.
Serve the dish with pumpkin seeds and a little sour cream.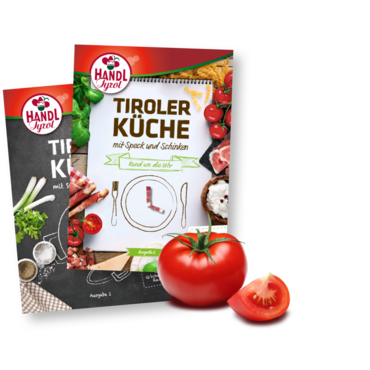 If you're searching for cooking inspiration. Become a Tyrolean!
We Tyroleans enjoy our speck and ham specialities at any time of the day. You can find many more modern and creative recipes, no matter if for breakfast, lunch or a midnight snack, in the recipe section of our magazine.
Recipes
Creative recipes for great meals