Serves 2
2 bunches of green asparagus
70 g HANDL TYROL Fine Loin Light 3% fat -40% salt
8 medium eggs
4 tbsp Tyrolean mountain cheese
Olive oil
Salt
Freshly ground pepper
With the cured Fine Loin Light with -40% salt it is easy to enjoy consciously
Preparation
Level of difficulty:
Beginner
Wash the asparagus and peel the bottom third. Cut into bite-sized pieces and fry in a pan with olive oil.
Cut the Fine Loin Light into strips. Then whisk together the eggs, the grated Tyrolean mountain cheese and the Fine Loin Light. Season with salt and pepper and add to the pan with the asparagus.
Cook the omelette until golden, turn over and cook until this side is also golden.
Serve the Tyrolean asparagus omelette warm.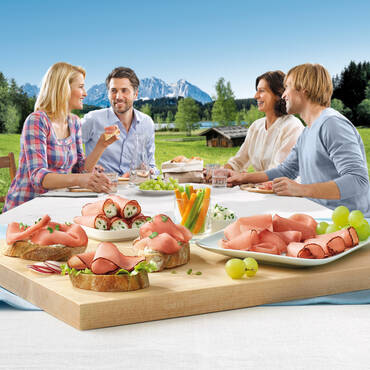 Good health Tyrolean style
The Tyrolean Ham Light with only 3% fat, less salt and a high portion of protein ist he fat-reduced alternative for everyone seeking the ideal balance between full culinary pleasure and a conscious lifestyle.
Conscious indulgence with full flavour