Serves 2
8 slices of HANDL TYROL Fine Loin Light 3% fat -40% salt
8 small mozzarella balls
12 cocktail tomatoes
Basil
8 wooden skewers
For the dressing:
50 ml balsamic vinegar
50 ml olive oil
1 tsp mustard
1 tsp honey
With the Fine Loin Light with -40% salt it is easy to enjoy consciously
Preparation
Level of difficulty:
Beginner
Place balsamic vinegar, oil, honey and mustard in a dish and whisk well.
Then wash the tomatoes and basil and alternate between pushing mozzarella balls and Fine Loin Light onto each skewer. Place the skewers on a platter and drizzle with the balsamic dressing.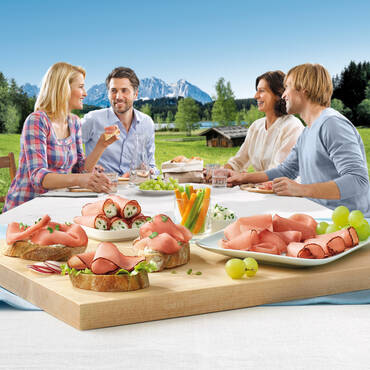 Good health - Tyrolean style
Due to a stressful everyday lifestyle and the resulting eating habits we often eat in an unhealthy way – we consume too much fat, salt, carbohydrates and sugar. Living more consciously and reducing calories, however, doesn't mean you have to compromise on taste.
Fine Loin Light - 40% salt
Enjoying more consciously with HANDL TYROL