Serves 4
1 medium Hokkaido squash
150 g HANDL TYROL Tiroler Speck PGI Pork Belly
Olive oil
Salt, pepper
Tiroler Speck PGI Pork Belly and squash – a perfect combination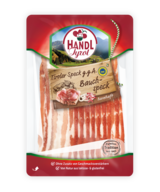 Preparation:
Level of difficulty:
Beginner
Quarter the squash, remove the seeds and cut into slices approx. 2 cm thick. Wrap the squash slices with 1-2 slices of Tiroler Speck PGI Pork Belly, place on a baking tray covered in greaseproof paper and drizzle with olive oil.
Bake in a preheated oven at 180°C for approx. 10 minutes. Then turn the slices and bake for another 5 minutes.
Season with salt and pepper before serving.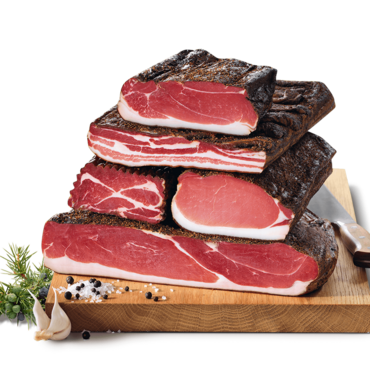 Cooking with Speck
Did you know that besides the Pork Belly, there are also four other types of Tiroler Speck PGI (Protected Geographical Indication)? And HANDL TYROL is even the only producer of all five types. Take a closer look and explore the world of our Tiroler Speck PGI!
Tiroler Speck PGI