Serves 6
12 jalapeños
200 g sheep's cheese
1 pack HANDL TYROL Tiroler Speck PGI Pork Belly
Oregano
Salt, pepper
Parsley
Tiroler Speck PGI Pork Belly gives the Jalapeños a delicious twist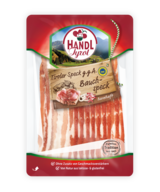 Preparation
Level of difficulty:
Beginner
For these tasty snacks, halve the jalapeños, crumble the sheep's cheese and add a little milk to create a creamy mixture.
If the mixture becomes too dry, add more milk. Peel the garlic cloves and crush, season with parsley, salt, pepper, and oregano.
Then fill the jalapeño halves with the mixture, wrap with Tiroler Speck PGI Pork Belly and fix with a tooth pick.
Fry the filled jalapeños in a pan until the ham is crispy and serve as a side.
Tip: The filled jalapeños are also great for grilling.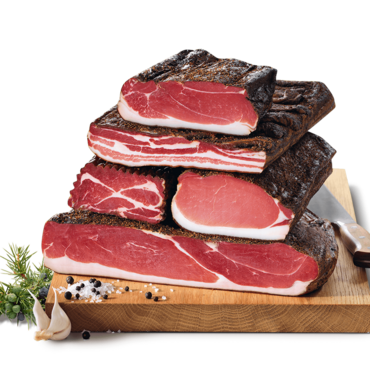 Cooking with Speck
Did you know that besides the Pork Belly there are also four other types of Tiroler Speck PGI (Protected Geographical Indication)? And HANDL TYROL is even the only producer of all five types. Take a closer look and explore the world of our Tiroler Speck PGI!
Tiroler Speck PGI
5 variations of Tiroler Speck PGI