Serves 4
500 g green (or white) asparagus
250 g HANDL TYROL Tiroler Speck PGI Pork Belly
50 g melted butter
Salt
Pepper
Tiroler Speck PGI Pork Belly and aspargus – a perfect combination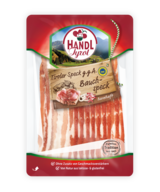 Preparation
Level of difficulty:
Beginner
Cook the asparagus in plenty of salted water for 3-5 minutes until al dente. Then remove. Allow to drain.
Wrap 3-4 pieces of asparagus in 1 slice of Tiroler Speck PGI Pork Belly.
Melt some butter, coat the wrapped asparagus with this and cook on both sides on a grill or in a grill pan for approx. 2 minutes.
Season with salt and pepper and serve warm and crispy!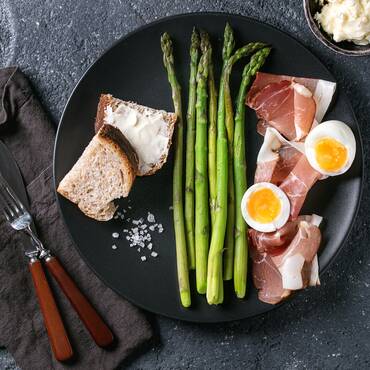 Spring time = time for asparagus
Asparagus is a delightfully light spring vegetable with many vitamins and important nutrients that can be preparies and many different ways. Especially our Tyrolean Air-Dried Ham or the cured Tiroler Speck PGI match the fresh taste of asparagus in a perfect way.
Asparagus Season