4 Muffins
8 slices of HANDL TYROL Tiroler Speck IGP Pork Belly
4 eggs
Salt, pepper
Herbs (e.g. chives)
Our cured and smoked Tiroler Speck IGP Pork Belly is a must for every great Sunday brunch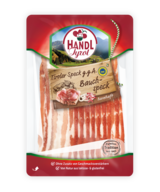 Preparation
Level of difficulty:
Beginner
For the ham muffins with egg, cover the muffin tins with Tiroler Speck IGP Pork Belly and crack an egg into each well.
Then bake at 200°C for approx. 10-15 minutes until the egg white is firm but the yolk is still a little runny.
Lightly salt and pepper the ham muffins and garnish with chives before serving.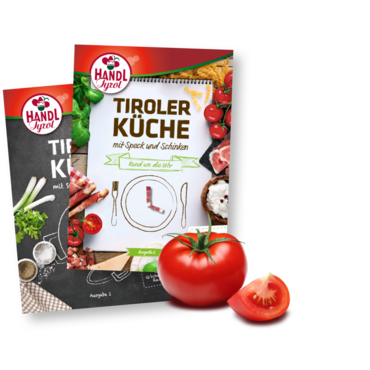 If you're looking for breakfast ideas. Become a Tyrolean!
We Tyroleans enjoy our speck and ham specialities at any time of the day. You can find many more modern and creative recipes, no matter if for breakfast, lunch or a midnight snack, in the recipe section of our magazine.
Recipes
Creative recipes for a hearty breakfast