Serves 4
600 g potatoes
1 large onion
250 g cooked beef
200 g HANDL TYROL Tiroler Speck PGI Ham
100 g cocktail tomatoes
Butter or lard for frying
Salt, pepper
Marjoram
Fresh parsley
Caraway
Tiroler Speck PGI Ham adds a particularly tasty flavour to the Gröstl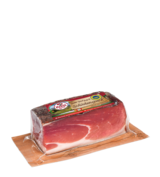 Preparation
Level of difficulty:
Beginner
Ideally, cook the potatoes in their skins the day before, peel while still hot and then cut into pencil-sized sticks. Cut onion and beef into fine strips and roughly chop the Tiroler Speck PGI Ham. Halve or quarter cocktail tomatoes.
Heat butter or lard in a pan and fry the chopped onions. Then add the potatoes and fry until both are crisp and golden brown. Then remove potatoes and onions from the pan and save the fat.
Fry the beef strips in the remaining cooking fat. Add the Tiroler Speck PGI Ham and the tomatoes and lightly fry, then mix carefully with the fried potatoes.
Season with salt, freshly ground pepper, marjoram, parsley and a little caraway.
Tip: Coleslaw, ham and cabbage salad, green salad or even a fried egg all go well with Speck Gröstl.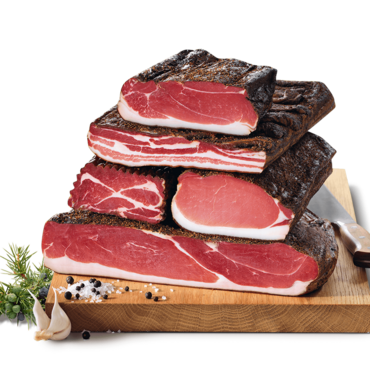 Cooking with Speck
Did you know that besides our classic Hamthere are also four other types of Tiroler Speck PGI (Protected Geographical Indication)? And HANDL TYROL is even the only producer of all five types. Take a closer look and explore the world of our Tiroler Speck PGI!
Tiroler Speck PGI