Serves 4
1 onion
2 garlic cloves
250 ml light beer
150 g HANDL TYROL Tiroler Speck PGI Pork Belly
700 ml chicken stock
3 medium potatoes (approx. 250 g)
Salt, pepper, nutmeg
For the roasted onions:
1 onion
Approx. 100 g flour
Salt, pepper
For the garnish:
30 g Tyrolean mountain cheese
30 g HANDL TYROL Tiroler Speck PGI Pork Belly
2 small potatoes (approx. 150 g peeled)
2 spring onions
Tiroler Speck PGI Pork Belly gives the ham and beet soup it's tasty aroma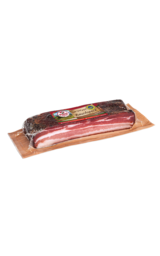 Preparation
Level of difficulty:
Beginner
Slice the onions into fine rings, coat in flour and fry in plenty of sunflower oil until crisp. Drain well on kitchen paper and season with a little salt.
For the soup, peel onions, garlic and potatoes and cut into small cubes. Cut the Tiroler Speck PGI Pork Belly into fine cubes , place in a wide pan together with the vegetables and fry until the onions are golden brown. Douse with beer and top up with the stock. As soon as the potatoes are soft, puree the soup and season with salt, pepper and nutmeg to taste.
For the top, chop the spring onions into fine rings and the potatoes into small cubes. Fry the finely chopped ham and the potato cubes in a pan until crispy, add the spring onions and season with salt and pepper.
Serve the soup in a soup bowl with the potato and ham mix, grated cheese and garnish with the onion rings.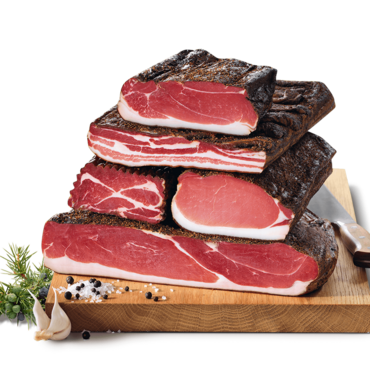 Cooking with Speck
Did you know that besides our Pork Belly, there are also four other types of Tiroler Speck PGI (Protected Geographical Indication)? And HANDL TYROL is even the only producer of all five types. Take a closer look and explore the world of our Tiroler Speck PGI!
Tiroler Speck PGI