Serves 2
250 g spaghetti
100 g HANDL TYROL Tiroler Speck PGI Pork Belly
1 shallot, chopped
125 ml cream
2 egg yolks
Salt
Pepper
Nutmeg
Tyrolean mountain cheese
After maturing in clear Tyrolean mountain air, our Tiroler Speck PGI Pork Belly adds the special finish to this dish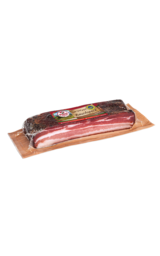 Preparation
Level of difficulty:
Beginner
Cook the spaghetti in salted water until al dente then drain and rinse with cold water.
Meanwhile, cut the Tiroler Speck PGI Pork Belly into thin sticks and fry these together with the finely chopped shallots in a pan. In a small container, whisk two egg yolks with cream, nutmeg, salt and pepper.
Then add the spaghetti to the fried speck, then cover with the egg mixture and mix through.
Sprinkle with Tyrolean mountain cheese before serving. This dish goes well with a variety of seasonal salads.
With thanks to Gabi Krapinger for sending in this recipe.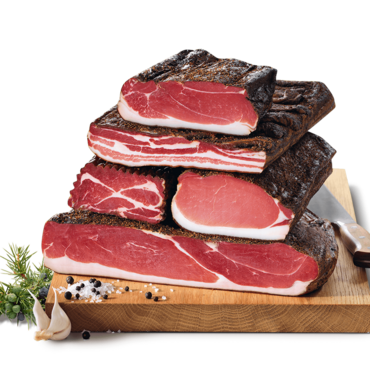 Cooking with Speck
Did you know that besides the Pork Belly, there are also four other types of Tiroler Speck PGI (Protected Geographical Indication)? And HANDL TYROL is even the only producer of all five types. Take a closer look and explore the world of our Tiroler Speck PGI!
Tiroler Speck PGI