2 croissants
6 slices of HANDL TYROL Tiroler Speck PGI Pork Belly
2 crisp croissants
2 eggs
4 slices of cheese (e.g. Tyrolean mountain cheese)
1 tomato
A few salad leaves
Salt, pepper
Savoury croissants with Tiroler Speck PGI Pork Belly – ideal for every cosy Sunday brunch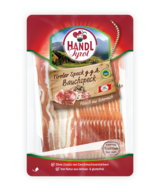 Preparation
Level of difficulty:
Beginner
For the savoury croissants, cut the croissants lengthways. Then, fry the Tiroler Speck PGI Pork Belly until crisp in a pan or in the microwave until crisp.
Lightly whisk the eggs with a fork so that they form a thick scramble in the pan. Heat the slices of tomato in the pan for approx. one minute.
Then place the speck, cheese, eggs and tomato slices together with the salad leaves in the croissant. Season with salt and pepper to taste. Then serve immediately.
Tip: It's also quick and easy to cook Tiroler Speck PGI Pork Belly in the microwave. Place the slices on kitchen paper and cook on high for approx. 2-3 minutes until golden brown.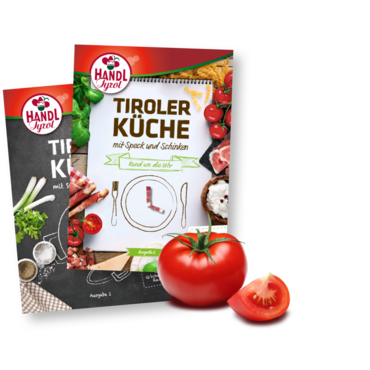 If you're looking for breakfast ideas. Become a Tyrolean!
We Tyroleans enjoy our speck and other ham specialities every time of the day. You can find many more modern and creative recipes, no matter if for breakfast, lunch or a midnight snack, in the recipe section of our magazine.
Recipes
Creative recipes for a hearty breakfast