Serves 2
100 g HANDL TYROL Tiroler Speck PGI Pork Belly
250 g Ribbon Noodles
150 g mushrooms
1 onion
2 garlic cloves
Some whipping cream
Grated parmesan
Freshly ground salt, pepper
Parsley, finely chopped
Oil or clarified butter for frying
Parmesan for grating
Our hearty Tiroler Speck PGI Pork Belly adds the special touch to this great dish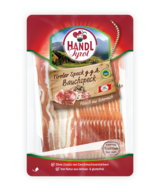 Preparation
Level of difficulty:
Beginner
For the noodles, bring a saucepan of water to the boil, salt and cook the noodles until al dente, according to the instructions on the packet.
Carefully clean and slice the mushrooms. Peel onion and garlic. Dice the onion and finely dice the garlic cloves. Cut the Tiroler Speck PGI Pork Belly into strips.
Heat oil in a pan and lightly fry onion and garlic. Add ham and mushrooms and fry together. Season with freshly ground salt and pepper.
Add a little cream to the mushroom mixture to taste, mix with noodles and dress with grated parmesan. Finally, garnish with finely chopped parsley.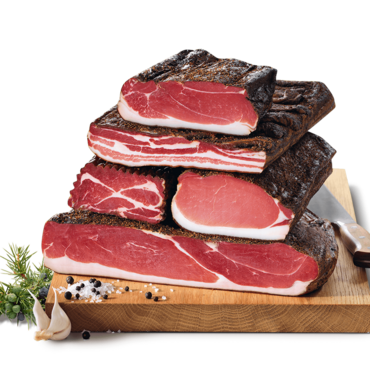 Cooking with Speck
Did you know that besides the Pork Belly, there are also four other types of Tiroler Speck PGI (Protected Geographical Indication)? And HANDL TYROL is even the only producer of all five types. Take a closer look and explore the world of our Tiroler Speck PGI!
Tiroler Speck PGI
5 types of Tiroler Speck PGI