Serves 2
2 beef fillets
100 g HANDL TYROL Tiroler Speck PGI Ham
300 g green beans
100 g HANDL TYROL Tiroler Speck PGI Pork Belly
500 g potatoes
Butter
Red wine
Pepper mix
Salt, pepper
Tiroler Speck PGI Pork Belly gives this dish extra flavour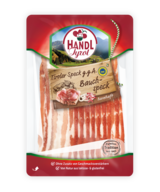 Preparation
Level of difficulty:
Beginner
First, wash the potatoes and cook for approx. 40 minutes. Then peel and mash.
Wash and prepare the beans and cook in salted water for approx. 8 minutes until al dente. Then rinse with cold water and wrap bunches of 5 beans with a slice of Tiroler Speck PGI Pork Belly. Then sauté in butter.
Place the mashed potatoes in a pan and fry on both sides in clarified butter until brown.
Meanwhile, season the beef fillets with salt and pepper and then wrap with two slices of Tiroler Speck PGI Ham (bind with roasting string to create a neat look). Heat oil in a roasting pan and sear the meat on both sides for 3-4 minutes. Cover the fillets with foil and leave to rest for approx. 10 minutes.
Add a glug of red wine to the roasting sauce, stir in a pat of butter and add the pepper mix. Then remove the fillet from the foil and serve together with the ham-wrapped beans and the roasted potatoes.
Tip: Pepper steaks also go well with chips or roasted broccoli.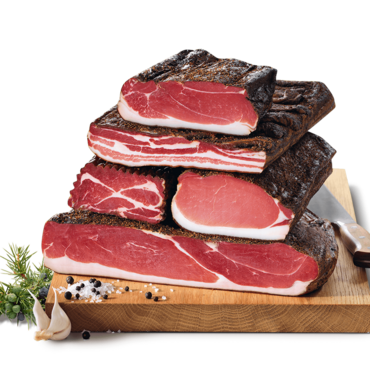 Cooking with Speck
Did you know that besides the Pork Belly, there are also four other types of Tiroler Speck PGI (Protected Geographical Indication)? And HANDL TYROL is even the only producer of all five types. Take a closer look and explore the world of our Tiroler Speck PGI!
Tiroler Speck PGI
5 variations of Tiroler Speck PGI