Serves 4
400 g penne
250 g chanterelles
100 g HANDL TYROL Tiroler Speck PGI Ham
100 g green beans
1 onion
100 ml white wine
100 ml vegetable stock
3-5 tbsp olive oil
Sea salt
Freshly ground pepper
Sprigs of thyme
Parmesan, freshly grated
Tiroler Speck PGI Ham and chanterelles – simply delicious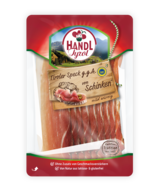 Preparation
Level of difficulty:
Hobby cook
For the penne with ham and chanterelles, bring a pan of salted water to the boil, wash and add the green beans and cook until al dente. Then rinse immediately with cold water.
Meanwhile, clean the chanterelles thoroughly. Then cut the Tiroler Speck PGI Ham into strips and fry until crispy, remove from the pan and put to one side. Add the finely diced onion to the pan and cook until translucent.
Add the chanterelles to the onions and fry together. Add a little olive oil if needed. Toss the green beans and the sprigs of thyme together in the pan and douse with a glug of white wine. Add the vegetable stock and leave to simmer on a medium heat for around 2-3 minutes.
Meanwhile, cook the penne in a large pan with salt water and strain as soon as it is al dente. Then stir the pasta and the ham together with the chanterelle mixture and leave to cook a little. Remove the thyme sprigs and season with olive oil, salt and pepper.
Garnish the penne with freshly grated parmesan and a little finely chopped thyme.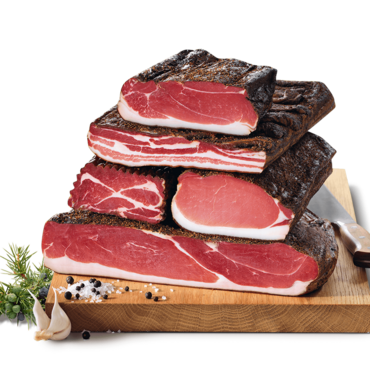 Cooking with Speck
Did you know that besides the Ham, there are also four other types of Tiroler Speck PGI (Protected Geographical Indication)? And HANDL TYROL is even the only producer of all five types. Take a closer look and explore the world of our Tiroler Speck PGI!
Tiroler Speck PGI
5 variations of Tiroler Speck PGI