Serves 4
400 g pasta (e.g. spaghetti)
100 g HANDL TYROL Tiroler Speck PGI Loin
100 g mountain cheese (grated) or parmesan
1 tsp sunflower oil
For the pesto:
1 small bunch of wild garlic
1 small bunch of parsley
80 ml olive oil
1 tbsp lemon juice
1-2 tbsp parmesan
20 g pine nuts
10 g walnuts
20 g sunflower seeds
Sea salt
Tiroler Speck PGI Loin gives this dish a special aroma and flavour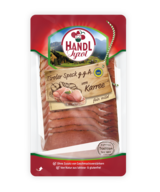 Preparation
Level of difficulty:
Hobby cook
For the pesto, wash the wild garlic and the parsley, pat dry and remove the stalks. Puree together with the other ingredients using a blender. Season with sea salt to taste.
Cook the noodles in salted water until al dente according to the instructions on the packet. Meanwhile, cut the Tiroler Speck PGI Loin into fine strips and fry in a pan until crispy.
Drain the pasta and add to the pan. Then fold in the pesto, serve on plates and sprinkle with mountain cheese or parmesan.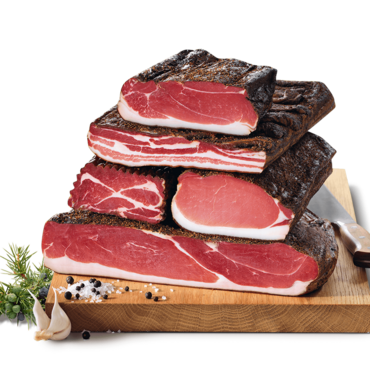 Cooking with Speck
Did you know that besides the Loin there are also four other types of Tiroler Speck PGI (Protected Geographical Indication)? And HANDL TYROL is even the only producer of all five of them. Take a closer look and explore the world of our Tiroler Speck PGI.
Tiroler Speck PGI