4 glasses
70 g HANDL TYROL Fine Loin Light 3% fat -40% salt
4 eggs
1 onion
150 g carrots
100 g radishes
150 g peas
½ cucumber
fresh spinach
For the dressing:
8 tbsp white balsamic vinegar
8 tbsp olive oil
1-2 tbsp honey
1 tbsp mustard
Salt
With the Fine Loin Light with -40% salt it is easy to enjoy consciously
Preparation
Level of difficulty:
Beginner
For the dressing, put balsamic vinegar, oil, honey and mustard in a small dish and mix well. Then season with a little salt.
Hard-boil the eggs, peel and then cut into cubes. Finely dice the onion. Grate the carrots and radishes and dice the cucumber. Slice the Fine Loin Light into fine strips.
Meanwhile, bring a pan of water to the boil and blanch the peas for 2 minutes. Then rinse immediately in cold water.
First pour the dressing into the glass. Then add the vegetables, in individual layers. Then add the eggs and the Fine Loin Light. To finish, add the washed spinach leaves to the glass.
Cover the glass and then serve. Before eating, the glass must be shaken well so that the dressing is mixed with the salad.
Tip: It's best to use a spice jar with a screw top.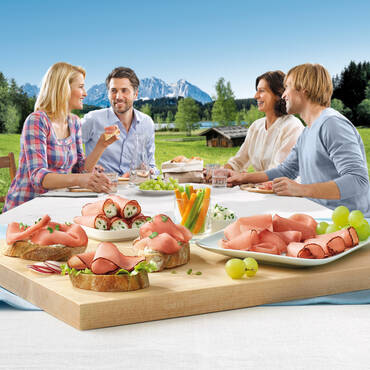 Good health - Tyrolean style
The Fine Loin Light with only 3% fat, less salt and a high portion of protein ist he fat-reduced alternative for everyone seeking the ideal balance between full culinary pleasure and a conscious lifestyle.
Fine Loin Light - 40% salt
Light but full flavoured pleasure