Serves 4
For the salad:
70 g HANDL TYROL Tiroler Speck PGI Ham in strips
2 tbsp honey
1 tsp coarse pepper
3 lettuce hearts or seasonal summer salad leaves and flowers
120 g raspberries
2 tbsp walnuts
20 mint leaves
50 g hard Tyrolean goat's cheese
For the dressing:
1 tbsp honey
2 tbsp apple cider vinegar
3 tbsp sunflower oil
Salt, pepper
The Tiroler Speck PGI Ham adds mounts of flavour to this refined salad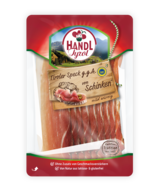 Preparation
Level of difficulty:
Beginner
Cut the Tiroler Speck PGI Ham in fine strips and distribute it on a baking sheet and cook at 200 °C for approx. 12-15 minutes until crisp. Coat the hot ham with honey and place on a baking sheet, return to the oven for another 2 min. approx. to caramelise, season with coarse pepper.
Finely slice the Tyrolean goat's cheese, roughly chop the walnuts.
For the dressing, mix all ingredients together well and season with salt and pepper. Pull out the salad leaves, add raspberries and walnuts and coat with dressing. Arrange on a plat, distribute the raspberries, walnuts and the cheese.
Before serving, garnish the salad with the crispy speck, fresh mint and flowers.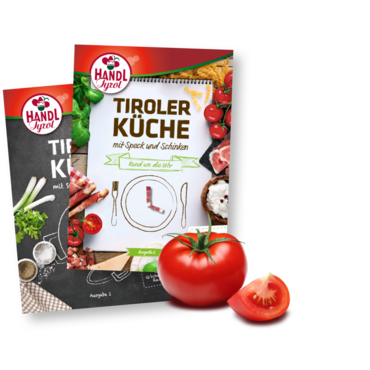 If you're searching for cooking inspiration. Become a Tyrolean!
We Tyroleans enjoy our speck and other ham specialities at any time of the day. You can find many more modern and creative recipes, no matter if for breakfast, lunch or a midnight snack, in the recipe section of our magazine.
Recipes
New inspiration for great dishes