Serves 2
8 slices of HANDL TYROL Fine Loin Light 3% fat -40% salt
4 ripe figs
100 g Gorgonzola
1 apple
50 g walnuts
Green frisée salad leaves
Rocket
For the dressing:
1 ripe orange
2 tbsp grape seed oil
Pepper, salt, honey
With the Fine Loin Light with -40% salt it is easy to enjoy consciously
Preparation
Level of difficulty:
Beginner
For the dressing, halve the orange, squeeze out the juice and mix well with the grape seed oil. Then season with a pinch of salt, honey, freshly ground pepper.
Next wash the rocket and frisée and tear into bite-size pieces. Wash and quarter the figs. Halve the apple, remove the core and cut into slices.
Carefully mix all ingredients together with the dressing in a large salad bowl. Place the portions in small dishes and garnish with pieces of Gorgonzola, Fine Loin Light and walnuts.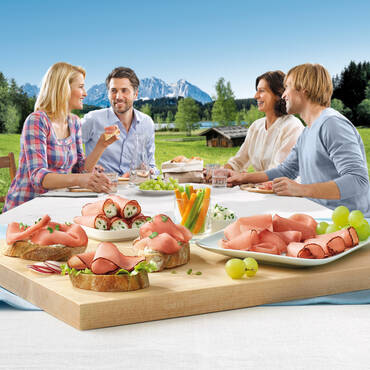 Good health - Tyrolean style!
With only 3% fat, less salt and a high proportion of protein, the Fine Loin Light is our contribution to a conscious but still pleasurable nutrition!
Fine Loin Light - 40% salt
Light but full flavoured pleasure