Serves 4
200 g feta cheese
12 slices HANDL TYROL Fine Loin Light 3% fat, -40% salt
12 sage leaves
4 tbsp white wine vinegar
2 tsp sugar
50 ml sunflower oil
freshly ground pepper
a handful of chives and parsley
chopped herbs for garnishing
Fine Loin Light with only 3% fat and 40% less salt - because light and hearty are not mutually exclusive!
Preparation
Level of difficulty:
Beginner
Cut the feta cheese into stripes and add a bit of freshly grinded pepper. Place the Fine Loin Light on your work top, add the sage on top of the slices and roll it around the feta pieces.
Wash the herbs and carefully shake them to dry. Chop the parsely and the chives. Mix up the herbs with the vinegar, sugar and oil to have a nice dressing.
Briefly sauté the feta rolls in a pan, plate and garnish them with some of the chopped herbs. Serve the herb vinaigrette in a glass on the side.
Tip: The feta rolls spice up every simple salad!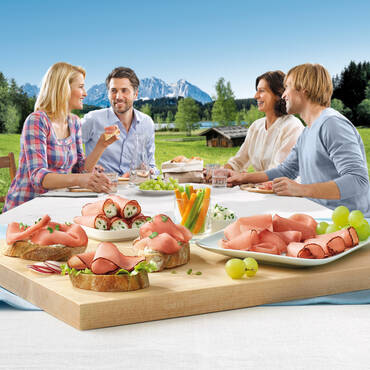 Good health - Tyrolean style
The Fine Loin Light with only 3% fat, less salt and a high portion of protein ist he fat-reduced alternative for everyone seeking the ideal balance between full culinary pleasure and a conscious lifestyle.
Fine Loin Light - 40% salt
Light but full flavoured pleasure