Ingredients for approx. 20 pieces
500 g eggplant
6 tbsp olive oil
200 g fresh toast bread without crust
80 ml warm milk
50 g flour
30 g grated Parmesan cheese
2 eggs
salt
freshly ground pepper
For the topping:
200 g cream cheese
70 g HANDL TYROL Fine Loin Light 3% fat, -40% salt
cayenne pepper
salt
lemon
finely chopped herbs (e.g. parlsey, chives, basil, chervil)
Fine Loin Light 3% fat, -40% salt - the light alternative
Preparation
Level of difficulty:
Hobby cook
Peel the eggplants, cut into slices, sprinkle with salt and let them rest for 15 minutes to lose the water. Afterwards cut them into cubes and sauté them for approximately 10 minutes with 2 tablespoons of olive oil. Cut off the peel, braise it until soft and put it aside for garnishing.
Cut the toast bread into cubes, put them into a bowl, pour over the milk and let it soak for a bit. Add the eggplant, flour, parmesan, eggs, salt and pepper. Add some water or flour if necessary. Combine everything well and season it with salt and pepper.
Preheat the oven at 70°C. Heat the rest of the oil in a big pan. Shape the eggplant mixture into small cakes, gently press them down to flatten and carefully fry them individually in the pan for 3 minutes on each side.
For the topping, season the cream cheese with salt, cayenne pepper, lemon juice and the finely chopped herbs. Use an icing bag to place the crème on top of the blinis and top it with finely striped Fine Loin Light. Garnish with some herbs and the braised eggplant peel.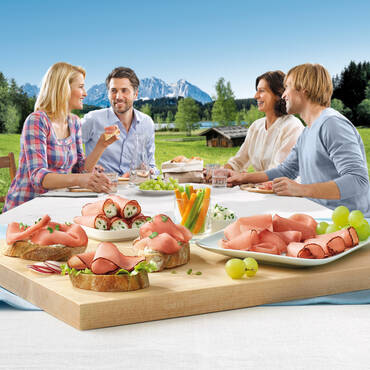 Good health Tyrolean style
The Fine Loin Light with only 3% fat, less salt and a high portion of protein ist he fat-reduced alternative for everyone seeking the ideal balance between full culinary pleasure and a conscious lifestyle.
Fine Loin Light - 40% salt
Light yet full flavoured pleasure