Serves 4
For the fish:
4 char fillets, cleaned, skin removed
50 g HANDL TYROL Tiroler Speck PGI Ham
1 tbsp oil
1 apple
1 small bunch of parsley approx. 90 g
2 tbsp walnuts
1 tbsp butter
50 g white bread
1 egg
Salt, pepper
For the salad:
100 g green beans
2 shallots
1 chilli pepper
1 garlic clove
1 pack of garden cress
4 tbsp sunflower oil
2 tbsp apple cider vinegar
Salt, pepper
The Tiroler Speck PGI adds the special touch to this dish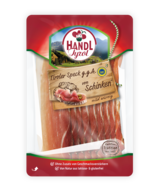 Preparation
Level of difficulty:
Hobby cook
For the crust, beat the butter until fluffy. Mix the walnuts together with the white bread and the parsley and roughly grate the apple.
Cut the Tiroler Speck PGI Ham in fine stripes and put them in a pan with a tbsp of oil until crispy. Then mix with the apple, butter, egg and white bread mixture. Season with salt and pepper to taste.
Cook the green beans in salted water until al dente, rinse in cold water and pull apart according to length. Finely chop shallots, chilli and garlic and fry in a pan with sunflower oil until golden. Add the green beans, stir briefly and season with salt, apple cider vinegar and pepper to taste.
Place the fish on a baking tray covered with greaseproof paper and season with a little salt. Spread with the crust and roast for approx. 5 minutes at 200 °C.
Serve the beans on a plate, place the fish on top and garnish with fresh cress.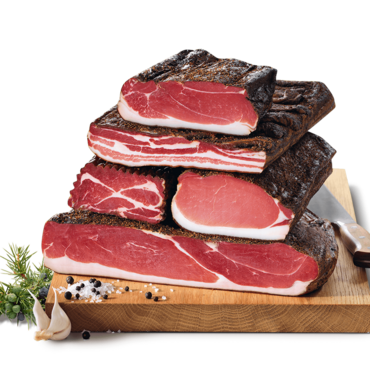 Cooking with Speck
Did you know that besides our classic Ham, there are also four other types of Tiroler Speck PGI (Protected Geographical Indication)? And HANDL TYROL is even the only producer of all five types. Take a closer look and explore the world of our Tiroler Ham PGI!
Tiroler Speck PGI