4 toasts
8 slices of HANDL TYROL Tiroler Spekc PGI Pork Belly
4 slices of bread
6 eggs
6 cherry tomatoes
Salt, pepper
Herbs (e.g. Chives, thyme, parsley)
Our hearty Tiroler Speck PGI Pork Belly gives this breakfast toast a delicious twist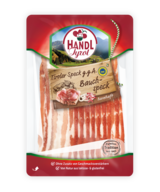 Preparation
Level of difficulty:
Beginner
For the breakfast toast with eggs and ham, lightly toast the sliced bread in the oven.
Meanwhile, cut the Tiroler Speck PGI Pork Belly into small pieces and fry briefly. Then add the whisked eggs and fry until the eggs are firm. Season with salt, pepper and finely chopped chives. Briefly fry the cherry tomatoes in a pan.
To finish, place the eggs with the Tiroler Speck PGI Pork Belly on the toasted bread and garnish with tomatoes and chives. Serve the breakfast toast immediately.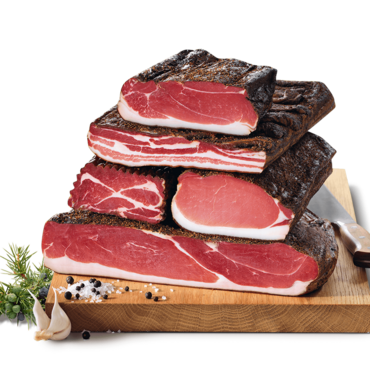 Cooking with Speck
Did you know that besides our Pork Belly, there are also four other types of Tiroler Speck PGI (Protected Geographical Indication)? And HANDL TYROL is even the only producer of all five types. Take a closer look and explore the world of our Tiroler Speck PGI!
Tiroler Speck PGI
5 variations of Tiroler Speck PGI