Serves 4
400 g green asparagus
200 g HANDL TYROL Tiroler Speck PGI Loin
250 g risotto rice (round grain acquarello)
2 medium shallots
1 tbsp oil
150 ml dry white wine
750 ml vegetable stock
Salt, pepper
50 g parmesan
Chopped parsley to garnish
The fine and mild Tiroler Speck PGI Loin adds a special touch of flavour to this risotto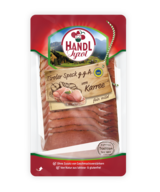 Preparation
Level of difficulty:
Beginner
Peel the shallots and dice finely. Wash and peel the asparagus and chop off the woody ends. Heat oil in a flat pan, add onions and cook until translucent.
Add the rice, braise briefly and then top up with white wine. Allow to simmer for approx. 20 minutes, stirring occasionally, and top up occasionally with hot vegetable stock.
Meanwhile, roughly chop the asparagus. Add the asparagus approx. 5 minutes before the end of cooking time. Grate the cheese and add the parmesan as soon as the rice is ready. Season with salt and pepper.
Cut Tiroler Speck PGI Loin into fine slices and lightly fry in a pan. Serve the risotto on plates and garnish with parmesan and Tiroler Speck PGI Loin.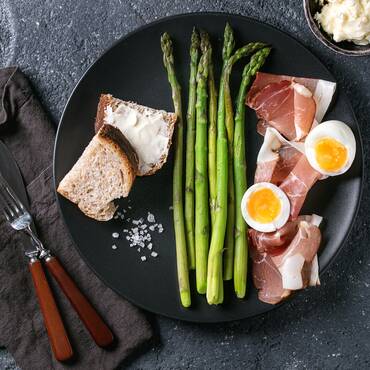 Spring time = time for asparagus
Asparagus is a delightfully light spring vegetable with many vitamins and important nutrients that can be preparies and many different ways. Especially our Tyrolean air-dried Ham or the Tiroler Speck PGI match the fresh taste of asparagus in a perfect way.
Asparagus Season