Serves 4
600 g white asparagus
HANDL TYROL Roasted Ham
750 g waxy potatoes
Lemon
Salt
Sugar
Butter for sautéing
1 bunch of parsley
Roasted Ham and asparagus – a tasty combination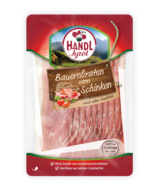 Preparation
Level of difficulty:
Beginner
Wash and peel the asparagus. Cook for 5 minutes in water with a pinch of salt and sugar. Remove from the water and allow to drain. Cook potatoes (unpeeled) in plenty of water, covered, for approx. 30 min. Plunge into cold water and peel. Then peel and cut into halves or quarters.
Finely chop the parsley and heat the butter in a pan. Add the potatoes and turn carefully. Season with salt and garnish with parsley. Heat butter in another pan, place the asparagus in the pan and sauté in butter.
Then place on a plate with 2-3 slices of Roasted Ham and the parsley potatoes.
Tip: This can also be served with a hollandaise sauce:

Ingredients:
3 egg yolks
1 tbsp lemon juice (freshly squeezed)
1 tbsp crème fraiche
175 g butter
salt and pepper

Preparation:
Place egg yolks, lemon juice and a little salt in a tall jar and mix until smooth using hand-held blender. Melt the butter. Slowly add the melted butter to the egg yolk-lemon mixture, blending all the while. Season with salt and pepper. Stir in crème fraiche to finish.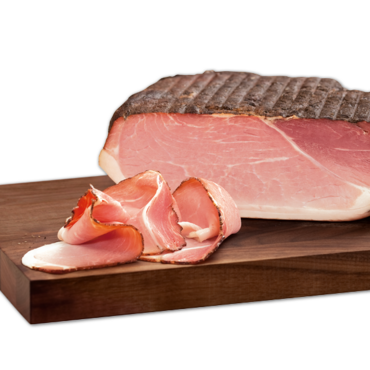 Roasted Ham – a delicious piece of Tyrol
Originally this tasty bit of Tyrolean culinary culture was only served at special occasions. The half-finished cured ham was taken from the smoke room and turned into a special holiday roast.
Roast Specialities – ideal with asparagus