Serves 4-6
For the pastry:
150 g flour
1 tbsp oil or butter
½ tsp salt
125 ml lukewarm water
For the filling:
1 white cabbage (approx. 600 g)
2 onions
100 g HANDL TYROL Tiroler Speck PGI Ham Cubes
50 g butter
1 tsp sugar
Freshly ground salt and pepper
1 tsp caraway seeds
2 garlic cloves finely shredded
100ml white wine
Plus:
Flour for the work surface
melted butter for glazing
The practical Tiroler Speck PGI Ham Cubes are a must have in every kitchen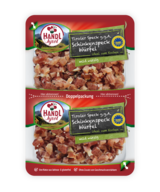 Preparation:
Level of difficulty:
Hobby cook
For Tiroler Speck PGI Ham Cubes, place the flour on the work surface and create a well. Add oil or butter, plus salt and lukewarm water. Only add enough water to give yourself an elastic, smooth dough. Halve the dough and roll into balls. Let sit for approx. 30 min under a warm dish.
For the filling, wash the white cabbage, remove the stalk and the rough ridges, cut into four and cut very finely or, ideally, slice. Peel the onions and dice finely.
Heat the butter, add the onions and Tiroler Speck PGI Ham Cubes and fry gently. Add the white cabbage and season with sugar, salt, pepper and crushed caraway seeds. Add white wine and, if required, a little water. Cover and leave to simmer on a low heat for fifteen minutes and then allow to cool.
Preheat oven to 200 °C. Roll out both pieces of the strudel dough very thinly. Spread out over a kitchen surface sprinkled with flour and spread with the white cabbage. Close the strudel dough on the sides then roll up both strudels with the help of a kitchen towel and then place on a baking sheet covered with greaseproof paper. To finish, brush with melted butter and bake for 30 minutes at 200 °C.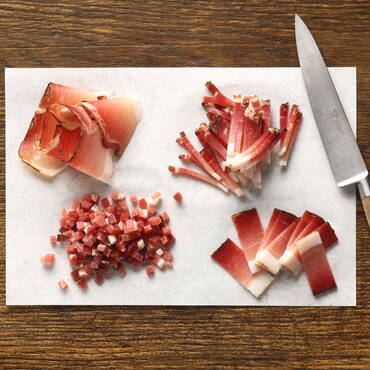 Cooking with Speck
Who enjoys to cook already knows: our Tiroler Speck PGI Ham Cubes are a practical must have in every kitchen. No matter if for original Tyrolean speck dumplings, casseroles or for refining soups and sauces – with HANDL TYROL good dishes taste even better.
Ham Cubes