Serves 6
300 g green asparagus
100 g HANDL TYROL Tiroler Speck PGI Ham Cubes
50 g melted butter
2 eggs
300 ml sour cream
150 g Tyrolean mountain cheese
200 g corn starch
175 g flour
1 pack of baking powder
Tiroler Speck PGI Ham Cubes - the little helpers from HANDL TYROL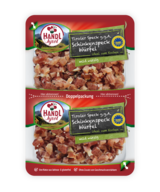 Preparation
Level of difficulty:
Hobby cook
Preheat the oven to 180 °C and coat the muffin tins with butter.
Wash and peel the asparagus and chop off the ends. Cook the asparagus for 3 minutes in salted water, drain and leave to cool. Cut off the tips and put to one side. Cut the asparagus into cubes approx. 5 mm in size.
Whisk the butter together with the eggs and add sour cream. Finely grate the Tyrolean mountain cheese and stir together with corn starch, flour, baking powder, 1 tsp salt and 100 g cheese. Add to the egg mixture in small portions.
Fold in the asparagus and Tiroler Speck PGI Ham Cubes and use to fill the muffin tins. Garnish the muffins with asparagus tips and the rest of the mountain cheese and bake on the middle shelf of the oven for approx. 10 minutes. Then reduce the temperature to 150 °C and leave the muffins to bake for approx. 25 minutes.
Take the muffins out of the oven and leave to cool in their tins for approx. 5 minutes. Then turn out and serve warm.
Tip: These ham and vegetable muffins can be made with a variety of vegetables such as peas, broccoli and courgettes.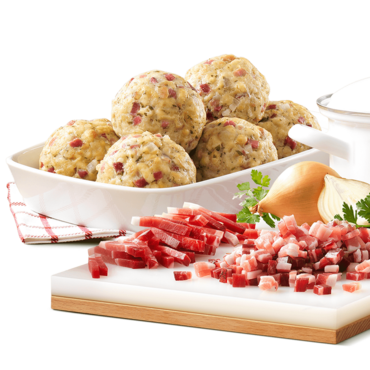 Cooking with Speck
We Tyroleans enjoy our speck and other ham specialities at any time of the day. You can find many more modern and creative recipes, no matter if for breakfast, lunch or a midnight snack, in the recipe section of our magazine.
Ham Cubes
Practical little helpers from HANDL TYROL