Serves 4
For the shortcrust pastry:
200 g cake flour
100 g cold butter (cubed)
1 egg
2 tbsp water
1 pinch salt
For the filling:
2 aubergines
4 carrots (2 orange, 2 purple)
3 courgettes (1 green, 1 light green, 1 yellow)
5 colourful cherry tomatoes
80 g HANDL TYROL Tiroler Speck PGI Ham Cubes
80 g quark
1 bunch of parsley, chopped
30 g finely chopped pine nuts
2 tbsp sunflower oil
Salt, pepper
Tiroler Speck PGI Ham Cubes give oven dishes the perfect tasty finish!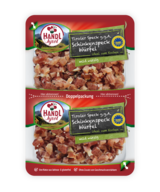 Preparation
Level of difficulty:
Hobby cook
For the shortcrust pastry, knead all ingredients together to make a silky dough, wrap in cling film and leave to rest for 30 minutes.
Cut the vegetables length-ways in thin strips, halve the aubergines length-ways and season with salt and pepper. Halve the cherry tomatoes. Stir the quark together with the pine nuts and parsley, season with salt and pepper.
Roll the pastry out thinly and place on a round baking tray (approx. 24 cm) covered with greaseproof paper. Spread the quark on the bottoms and then arrange the vegetables alternately in a circle from the outside inwards.
Spred the Tiroler Speck PGI Ham Cubes and the cherry tomatoes over the vegetables, drizzle with a little sunflower oil and cook in a preheated oven at 180 °C for approx. 30 minutes.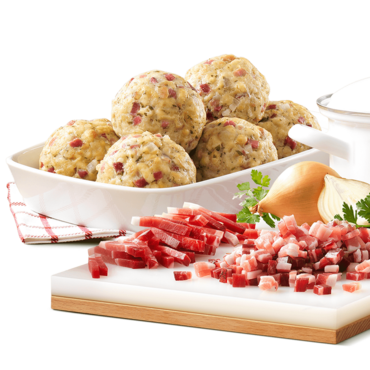 If you're searching for cooking inspiration. Become a Tyrolean!
Who enjoys to cook already knows: our Tiroler Speck PGI Ham Cubes are a practical must have in every kitchen.
Ham Cubes