Serves 4
For the pasta dough:
150 g durum wheat semolina
150 g flour
3 eggs
1 tbsp olive oil
Salt
For the filling:
100 g HANDL TYROL Tiroler Speck PGI Ham Cubes
250 g quark
70 g Tyrolean mountain cheese
Rosemary, thyme, parsley
Salt, pepper
Tiroler Speck PGI Ham Cubes - the little helpers from HANDL TYROL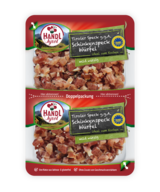 Preparation
Level of difficulty:
Beginner
Knead the semolina, flour, eggs, olive oil and salt into a smooth, silky dough. Wrap the dough in cling-film and place in a cool place for approx. 1 hour.
Meanwhile, mix the Tiroler Speck PGI Ham Cubes together with the quark, grated mountain cheese and the finely chopped herbs.
Take half of the pasta dough out of the refrigerator and roll out thinly. Using a small spoon, place small 5 cm portions of the cheese and ham filling on the dough. Whisk the egg and coat the pastry between the small piles of filling with the mixture.
Then thinly roll out the other half of the pasta dough, lay over the first sheet of dough and press down gently. With a pastry wheel, cut out the ravioli and press the edges down firmly. Place the ravioli in plenty of salted, boiling water, reduce the heat and cook the pasta in the gently simmering water, uncovered, for approx. 4 min.
Remove the ravioli, drain well and serve with browned butter.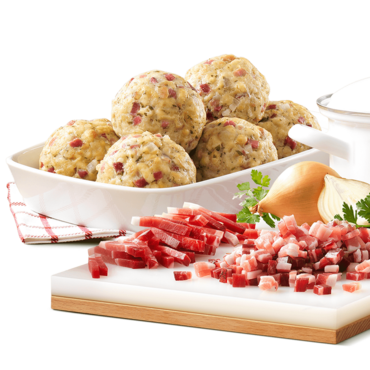 Cooking with Speck
Who enjoys to cook already knows: our Tiroler Speck PGI Ham Cubess are a practical must have in every kitchen. No matter if for original Tyrolean speck dumplings, casseroles or for refining soups and sauces – with HANDL TYROL good dishes taste even better.
Ham Cubes