Serves 4
75 g HANDL TYROL Tiroler Speck PGI Ham Cubes
8 potatoes
6 tbsp milk
1 tbsp butter
2 tbsp olive oil
Salt
For the sour cream dip:
½ tub sour cream
½ tub low fat yoghurt
1 tbsp Italian herbs
1 tbsp dill
Salt
Pepper
Tiroler Speck PGI Ham Cubes - the little helpers from HANDL TYROL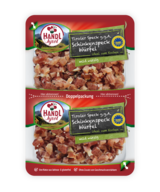 Preparation
Level of difficulty:
Hobby cook
For the hasselback potatoes, use a small knife to make deep cuts widthways along each potato.
It's best to place a wooden spoon by the potato and cut until the knife hits the wood. This ensures that the potatoes are all cut to an equal depth and there is no danger of cutting all the way through.
Gently heat the butter and milk together and briefly immerse the potatoes in the liquid. Then place on a baking sheet and drizzle with olive oil. Bake in the oven at 200 °C for approx. 60 minutes. Meanwhile, place the Tiroler Speck PGI Ham Cubes in a pan and lightly fry them until they are crispy golden.
For the dip, mix together sour cream, yoghurt and herbs and season with salt and pepper.
Salt the potatoes shortly before serving and garnish with the sour cream dip and the Ham Cubes.
Tip: For a spicy note, add a few sprigs of rosemary and garlic cloves to the baking tray before baking.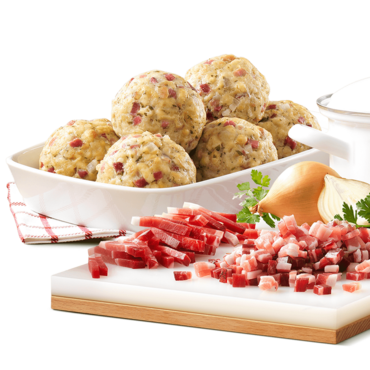 Cooking with Speck
Who enjoys to cook already knows: our Tiroler Speck PGI Ham Cubes are a practical must have in every kitchen. No matter if for original Tyrolean speck dumplings, casseroles or for refining soups and sauces – with HANDL TYROL good dishes taste even better.
Ham Cubes