Serves 4
200 g HANDL TYROL Tiroler Speck PGI Ham Cubes
1 tbsp butter
3 onions
8 eggs
75 ml cream
Salt, pepper
80 g parsley
Tiroler Speck PGI Ham Cubes - the little helpers from HANDL TYROL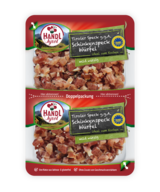 Preparation
Level of difficulty:
Beginner
Warm the butter in the pan and then fry the Tiroler Speck PGI Ham Cubes until crispy. Cut the onions into very fine strips, add and braise for 2-3 minutes.
Whisk the eggs and cream together and season with salt and pepper. Chop the parsley and mix in.
Pour the egg and cream mixture over the onion and ham mixture and cook until firm. Then carefully turn over and fry for a few minutes.
Tip: How to use your leftovers: simply add in chopped peppers, tomatoes or toasted croutons.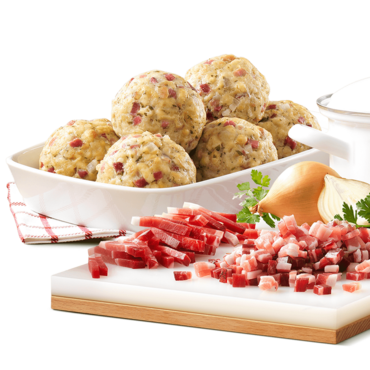 Cooking with Speck
Who enjoys to cook already knows: our Tiroler Speck PGI Ham Cubes are a practical must have in every kitchen. No matter if for original Tyrolean speck dumplings, casseroles or for refining soups and sauces – with HANDL TYROL good dishes taste even better.
Ham Cubes