Serves 4
4 large floury potatoes (baking potatoes)
150 g HANDL TYROL Tiroler Speck PGI Ham Cubes
400 g sour cream
1 onion
2 tomatoes
Parsley
Garlic
Salt
Freshly ground pepper
Pinch of sugar
Chives
Aluminium foil
The practical Tiroler Speck PGI Ham Cubes give this dish a special finish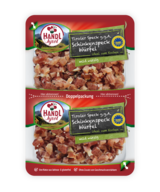 Preparation
Level of difficulty:
Beginner
Clean the potatoes well and pre-cook in boiling water for 15 minutes. Then wrap in aluminium foil and bake in a preheated oven at 200 °C for 45 minutes.
Stir together sour cream, onion, garlic and parsley. Season with salt, pepper and a pinch of sugar.
Remove the potatoes from the oven and remove the top half of the foil. Cut the potatoes open, gently prise apart and fill with the sour cream.
Briefly fry the Tiroler Speck PGI Ham Cubes in the pan. Garnish the baked potatoes with fried Ham Cubes, tomato pieces and chives.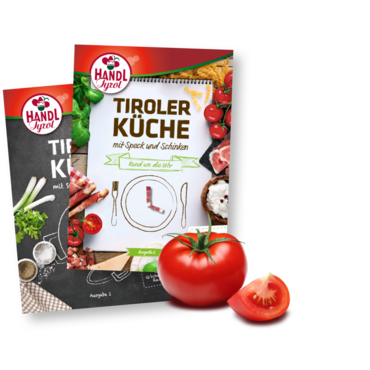 If you're searching for cooking inspiration. Become a Tyrolean!
We Tyroleans enjoy our speck and ham specialities every time of the day. You can find many more modern and creative recipes, no matter if for breakfast, lunch or a midnight snack, in the recipe section of our magazine.
Recipes
Creative ideas for cooking at home