Serves 4
For the pastry:
300 g flour
150 g soft butter
100 ml water
1 egg yolk
Salt
For the filling:
1 kg asparagus
150 g HANDL TYROL Tiroler Speck PGI Ham Cubes
200 ml whipping cream
2 eggs
Salt, pepper
Sugar
Nutmeg
1 bunch of parsley
The practical Tiroler Speck PGI Ham Cubes add a special aroma to this quiche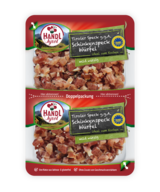 Preparation
Level of difficulty:
Beginner
For the pastry, knead flour, butter, water, egg yolk and salt into a smooth dough, make a ball, wrap in cling film and place in the refrigerator for approx. 30 minutes.
Wash and peel the asparagus and chop off the ends. Cook in salted water with a pinch of sugar for approx. 10 minutes, drain and leave to dry.
Wash the herbs, pat dry and chop finely. Stir together cream, eggs and herbs and season well.
Roll the dough out between sheets of cling film. Butter the quiche tin and then cover the bottom and sides with the pastry. Prick several times with a fork.
Distribute the asparagus and Tiroler Speck PGI Ham Cubes over the pastry and cover with the egg and cream mixture.
Bake in a pre-heated oven on the second shelf from the bottom at 200 °C for approx. 40 minutes.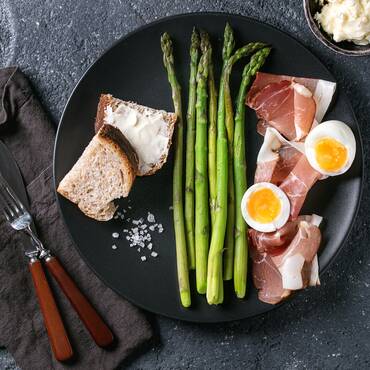 Spring time = time for asparagus
Asparagus is a delightfully light spring vegetable with many vitamins and important nutrients that can be preparies and many different ways. Especially our Tyrolean Air-Dried Ham or the Tiroler Speck PGI match the fresh taste of asparagus in a perfect way.
Asparagus Season