Serves 4
For the soup:
1 medium onion
700 ml vegetable or mild beef stock
Olive oil
Cake flour
200 ml whipping cream
2 egg yolks
80 g parmesan
Salt, pepper, nutmeg
For the garnish
4 slices of HANDL TYROL Air-Dried Mountain Ham
The chips made of Air-Dried Mountain Ham give the parmesan soup a delicious twist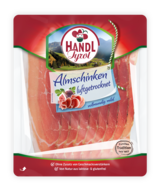 Preparation
Level of difficulty:
Beginner
For the ham chips, place the Air-Dried Mountain Ham on baking parchment and cook in a preheated oven on a high heat for approx. 5-10 minutes.
For the parmesan soup, peel the onion and chop finely. Heat 2 tbsp olive oil in a pan and then sweat the onions until translucent. Stir in 1 tbsp flour, pour in hot vegetable or beef stock and stir with a whisk to prevent any lumps from forming. Add the cream and leave the soup to simmer for approx. 10 minutes.
Grate the parmesan very finely, stir into the soup and leave it to simmer for another few minutes, to finish whisk together the egg yolks and a little cream and stir in) so that the cheese blends in. Finally, blend the soup with a hand-held blender and season with salt, pepper and grated nutmeg.
Serve the soup garnished with the ham chips.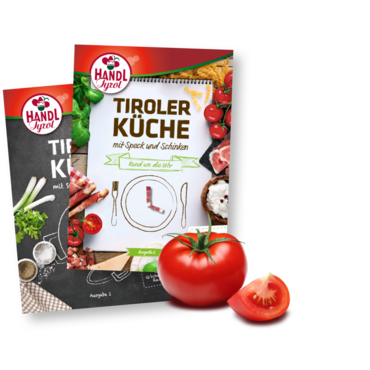 If you're searching for cooking inspiration. Become a Tyrolean!
We Tyroleans enjoy our speck and ham specialities at any time of the day. You can find many more modern and creative recipes, no matter if for breakfast, lunch or a midnight snack, in the recipe section of our magazine.
Recipes
Creative ideas for cooking at home