Serves 4
800 g potatoes
1 small savoy cabbage (approx. 500 g)
Approx. 150 g HANDL TYROL Tiroler Speck PGI Ham Cubes
200 ml stock
125 ml hot milk
150 ml whipping cream
3 tbsp fried onions
2 tbsp butter
1 tsp oil
1 tsp marjoram
1/3 tsp lovage, ground
1 tsp caraway seeds (whole)
1-2 tsp herb salt
Double tastes better! Tiroler Speck PGI Ham Cubes in the practical 2-chamber-pack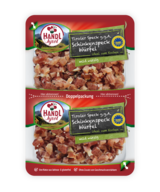 Preparation
Level of difficulty:
Beginner
Peel potatoes, wash, cut into chunks and cook in salted water for approx. 20 minutes.
Quarter the savoy cabbage, clean, remove stalk and cut into strips. Fry the Tiroler Speck PGI Ham Cubes in hot oil until crispy.
Heat 1 tbsp butter in a pan, add cabbage and braise. Cover with stock, add caraway seeds as desired, cover and cook for approx. 10-15 min.
Mash potatoes together with milk and the rest of the butter. Allow cabbage to dry and then mix together. Lightly whip cream, add it and season with marjoram, lovage and herb salt.
Serve the cabbage and potato mash garnished with crispy ham and fried onions.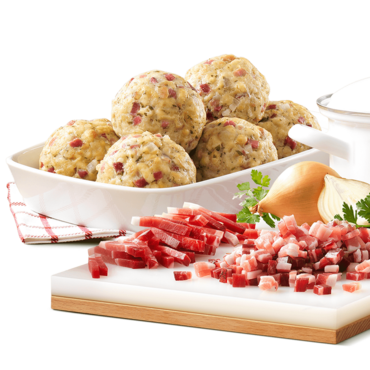 Cooking with Speck
Who enjoys to cook already knows: our Tiroler Speck PGI Ham Cubes are a practical must have in every kitchen.
Ham Cubes
Little helpers for maximum taste