Serves 4
400 g asparagus stalks and tips
150 g HANDL TYROL Air-Dried Mountain Ham
2 tbsp butter
2 tbsp flour
2 tbsp sesame oil
4 tbsp olive oil
200 ml whipping cream
Cayenne pepper
Lemon juice
Sugar
Salt, pepper
The Air-Dried Mountain Ham adds a special aroma to this asparagus soup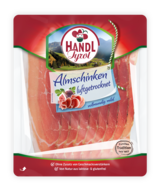 Preparation
Level of difficulty:
Beginner
Create a broth by cooking the asparagus peel and ends in 2 l water (seasoned with a little sugar and salt). After cooking for a while, leave asparagus to steep for approx. 20 minutes. Then put the asparagus broth through a fine sieve.
Finely chop 2/3 of the asparagus. Heat butter in a pan and add the asparagus pieces. Braise for approx. 2 minutes over a medium heat. Add flour and mix. Top this up with approx. 2 l asparagus stock, bring to the boil, cover and cook over a medium heat for 20 minutes.
Peel the rest of the asparagus and cut into thin strips. Heat sesame oil and olive oil together in a pan and fry asparagus for 3-4 minutes and season with salt and pepper. Add whipping cream and puree using a hand-held blender. Season with salt, a pinch of sugar, cayenne pepper and a squeeze of lemon juice. Finally, pass through a fine sieve.
Fry the slices of Air-Dried Mountain Ham in a pan until they are crisp and arrange attractively over the soup.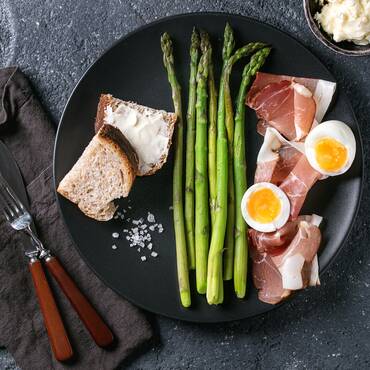 Spring time = time for asparagus
Asparagus is a delightfully light spring vegetable with many vitamins and important nutrients that can be preparies and many different ways. Especially our Tyrolean Air-Dried Ham or the Tiroler Speck PGI match the fresh taste of asparagus in a perfect way.
Asparagus Season