Serves 4
For the pastry:
400 g flour
20 g fresh yeast
Salt
2 tbsp olive oil
Approx. 250 ml lukewarm water
or fresh pizza dough
For the filling:
300 g green asparagus
100 g HANDL TYROL Tiroler Speck PGI Ham
200 ml tomato passata
100 g mozzarella
40 g pecorino
1 bunch of rocket, washed
2 tbsp balsamic vinegar
2 tbsp olive oil
Salt, pepper
Sugar
After maturing in clear Tyrolean mountain air for months, our Tiroler Speck PGI adds the special finish to every pizza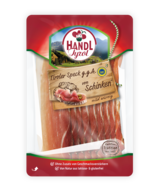 Preparation
Level of difficulty:
Hobby cook
Sift the flour into a bowl. Crumble the yeast and mix with a little sugar in 250 ml of lukewarm water. Mix with the flour to make a starter and leave for approx. 10 minutes. Then knead with olive oil and salt until you have a smooth dough and place in a warm place for approx. 15 min.
Wash and peel the asparagus and chop off the ends. Cut the asparagus length-ways into fine strips and cook in boiling water with salt and sugar for approx. 2 minutes. Then remove and drain. Meanwhile, preheat oven to 250 °C.
Split the dough into four, roll each piece in a little flour and place on an oiled baking sheet. Cover with the tomato passata and season with salt and pepper. Bake the pizzas on the bottom shelf of the oven for approx. 8 minutes. Meanwhile, cut the Tiroler Speck PGI into fine stripes, the mozzarella into cubes and finely grate the pecorino.
Spread the pizzas with mozzarella, fine ham strips and asparagus and bake for another 4 minutes. Remove and dress with rocket and pecorino. Drizzle with balsamic vinegar and olive oil and serve.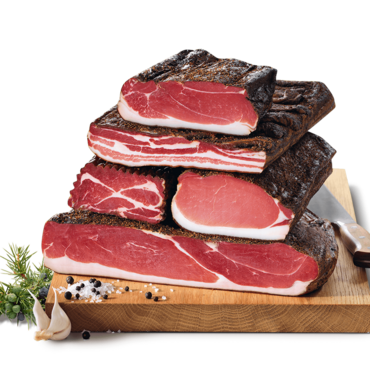 Cooking with Speck
Did you know that besides the classic Ham, there are also four other types of Tiroler Speck PGI (Protected Geographical Indication)? And HANDL TYROL is even the only producer of all five types. Take a closer look and explore the world of our Tiroler Speck PGI!
Tiroler Speck PGI